Current
Concert Bremen
Release Concert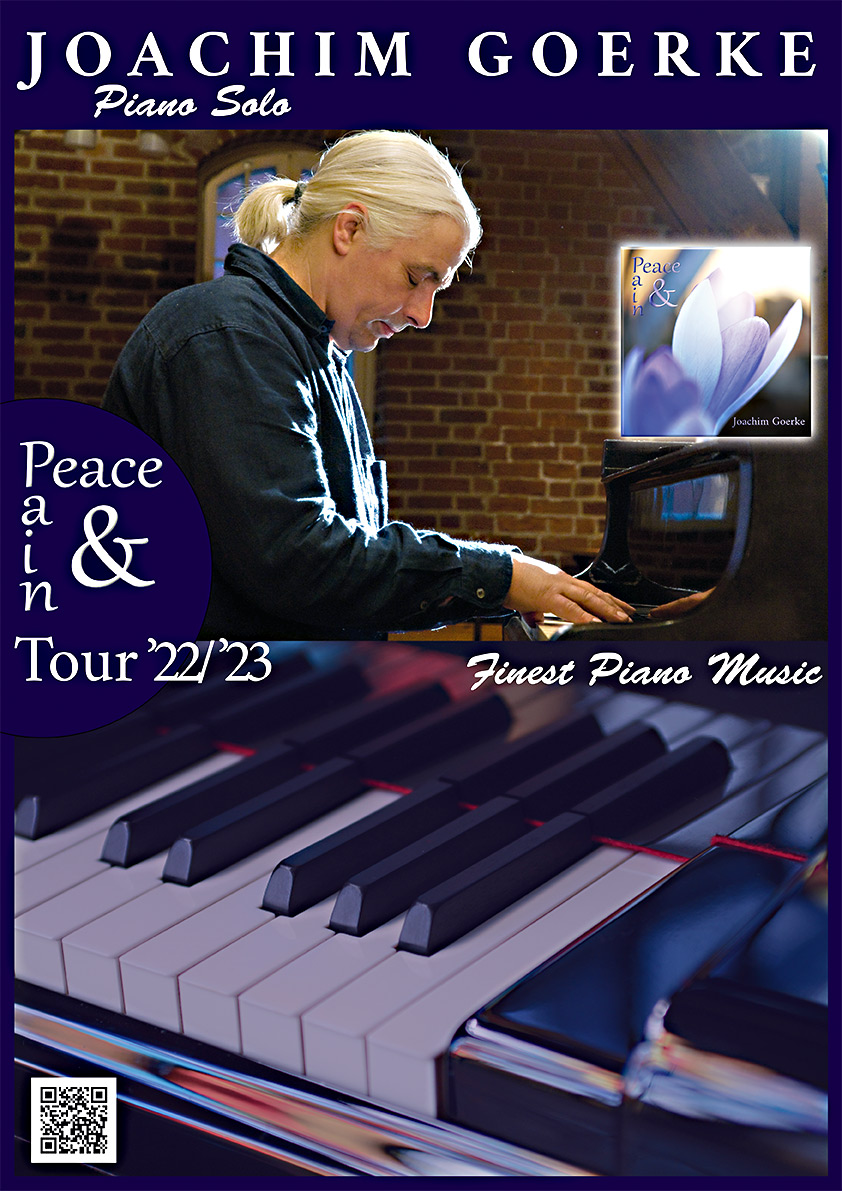 Neue Piano Solo CD
Peace & Pain
A small taste of the new album "Peace & Pain", which was released at the beginning of august. The film has been produced by Tom Dams and Simone Reifegerste. Thanks a lot.
Film of the titel song "Peace and Pain"
Der Himmel in Dir & Seelenflügel
The new double CD from Joachim Goerke was released in July
This is Joachim Goerke's first double CD. Why? This Momo would ask. A lot of calm pieces arose within the last two years. There was the wish for some time to produce a new CD with reliable calm "Piano Songs for Silence" like the CDs "Silence calls me" (2002) and "Danke - Thanks" (2006). This new CD is called "Der Himmel in Dir" – "Heaven in you".
At the same time, also very dynamic pieces arose with evoked Joachim's voice as an additional improvising element. These pieces didn't match with the calm CD. They formed a second diversified flow. This CD is called "Seelenflügel"- "Wings of Soul", according to the title song. The up and down of the musical waves is suitable for a concertante listening pleasure.
Sample from "Der Himmel in Dir"
Sample from "Seelenflügel"
The lonesome old tree
Joachim Goerke´s latest piano CD comes out mid-May 2016.
The Lueneburg pianist´s newest work offers delicate grand-piano tones in high-end quality, in which improvised vocalizes - inspired by the music - thread their way through the piano pieces.
Over a period of several months in 2015, recordings took place in the Lueneburg piano church, which has been the proud owner of a Steinway & Sons concert grand since February of that year. The direct recordings have a live character, making you feel you´re actually sitting in front of the piano in the church. It´s moving music: meditative and sometimes jazzy and powerful. An amazing listening experience. One of the songs interprets lyrics from the Sufi poet Rumi - a conversation with God.