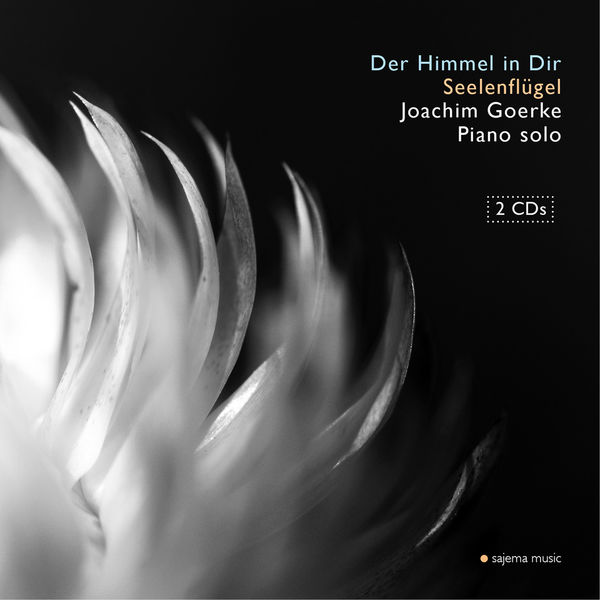 DER HIMMEL IN DIR & SEELENFLÜGEL
This is Joachim Goerke's first double CD. Why? This Momo would ask. A lot of calm pieces arose within the last two years. There was the wish for some time to produce a new CD with reliable calm "Piano Songs for Silence" like the CDs "Silence calls me" (2002) and "Danke - Thanks" (2006). This new CD is called "Der Himmel in Dir" – "Heaven in you".
At the same time, also very dynamic pieces arose with evoked Joachim's voice as an additional improvising element. These pieces didn't match with the calm CD. They formed a second diversified flow. This CD is called "Seelenflügel" – "Wings of Soul", according to the title song. The up and down of the musical waves is suitable for a concertante listening pleasure.
May you enjoy listening to both musical works.
DER HIMMEL IN DIR - FAREWELL ABSCHIED
GEBORGEN IN DIR
MEDITATIVES SCHREITEN

VERSION 2020

DER HIMMEL IN DIR
MOMO'S SONG: WARUM?
YOUR SWEETNESS

VERSION 2020

DRIFTING ON A SILENT SEA

THE SILENCE OF YOUR HEART

VERSION 2020

TWO CHILDREN ARE PAINTING

A LONG RUN

VERSION 2020

FAREWELL ABSCHIED
SEELENFLÜGEL – SEELENFLÜGEL
MEDITATIVES SCHREITEN

VERSION 2020

DANCE OF THE CRANES

LUNA UND TIDO

TWO CHILDREN ARE PAINTING

SEELENFLÜGEL
GEBORGEN IN DIR
BELLE'S AUFSTIEG
DER HIMMEL IN DIR
MOMO'S SONG: WARUM?
THE END OF ALL PAIN
A LONG RUN

VERSION 2020

FAREWELL ABSCHIED
Joachim Goerke – Grandpiano and Vocal
All compositions and arrangements by Joachim Goerke
Released July 2020
Order your CD from Sajema Music Lüneburg